Howdy Partners.
In order to send html email campaigns to your customers in w3p Flyerlink, you need two things...
1. An HTML email (The html file of the email you wish to send)
2. Customer data. (A CSV file containing the data of the contacts you wish to send the email to)
Create your email campaign
We have already added some HTML email templates to w3p Flyerlink that you can select from, should you wish to send them out yourself. We also continue to add new templates every month.
These templates automatically pull information from w3p Flyerlink, such as your workgroup code (to personalise the urls), your studio logo and profile picture, and your contact details.
In addition, you have the option to upload your own HTML email file.
To get started, head to this Marketing page at Workgroup > Customers > Mail.
Click 'Create New Campaign'.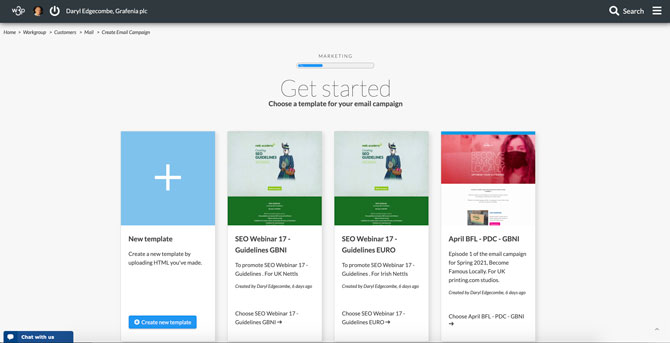 Pick an existing template or create new template, and follow the steps.
Your data
Once you have your email template, you can create a campaign.
Change the subject line and upload your CSV file.
You can export data in the correct format here: https://www.flyerlink.com/wm_email_list.php by clicking 'Create Email List' in the dashboard. You can download and re-import the data (if you're manually editing any of the columns) or link it directly to the campaign you've setup.
More information on creating email lists can be found here: https://www.flyerlink.com/res_art/creating-an-email-list
Note: Any contacts you wish to send an email to must be in w3p Flyerlink and opted in to receive email.
Send your campaign
Step 1: Build a list of your customer data from  w3p Flyerlink. You can do that from this page.
Please do not edit or remove the existing column headers in the csv.
It's ok to add additional column headers, if you have additional merge tags in your html template.
Step 2. Export your new CSV to preview or link your list to your campaign.
Step 3: Upload your new CSV or link your list to your campaign and wait for the magic to happen. The size of the file will indicate the cost of the campaign. It will also flag up any issues caused by missing 'MERGE' tags.
(Depending on the size of your file, this may take a minute. But if no magic happens after 60 seconds or so, or if your upload gets stuck, please contact support@grafenia.com, providing your campaign ID and CSV file).
Step 6: Send yourself a test. This will send you a test version using the first row of data in your csv.
Step 7: If happy, unleash your e-news on the world. Either send right away or schedule for the future.
Step 8: Check your campaign's performance.