Product Summary 
Frosted or etched windows are delightfully elegant. They look like your windows have been sandblasted. Particularly pleasant and understated for period properties. Like decals, choose the areas you want to be cut-out. Supplied pre-cut on backing paper.
Decals or Panels
Window Panels are rectangular and have shapes cut out of them, similar to the MGF logo on the left.
Window Decals are cut-to-shape, similar to the MGF circle and logo on the right.
File Supply
Shaped, etched and frosted window stickers are easy to set up, you basically just supply a mask of the area to be frosted. Here are some extra details
Colour use
Any areas that require frosted vinyl should have a 100% Magenta fill and any areas that are to be discarded should be blank or white. Do not include any other colours in your artwork.
Bleed
Your file should be supplied at 100% size with no bleed. There aren't templates for this product as window sizes are bespoke. Just set the page size in your chosen graphics application.
File Type
You need to supply .EPS files, these can be produced from all the major graphics packages.
Fonts
Please convert all fonts to outlines
Design detail
It is important that all edges are defined within the artwork and that any strokes and fonts have been outlined. Do not place duplicate lines, text or shapes that sit on top of each other.
Imposition
Designs can sometimes be abstract and there is an option to face or reverse apply the vinyl. Your finishing notes within your job will indicate this and your EPS file should match.
Etch on face: Etching on the face means the back of the graphic sticks to the glass and artwork is supplied right reading.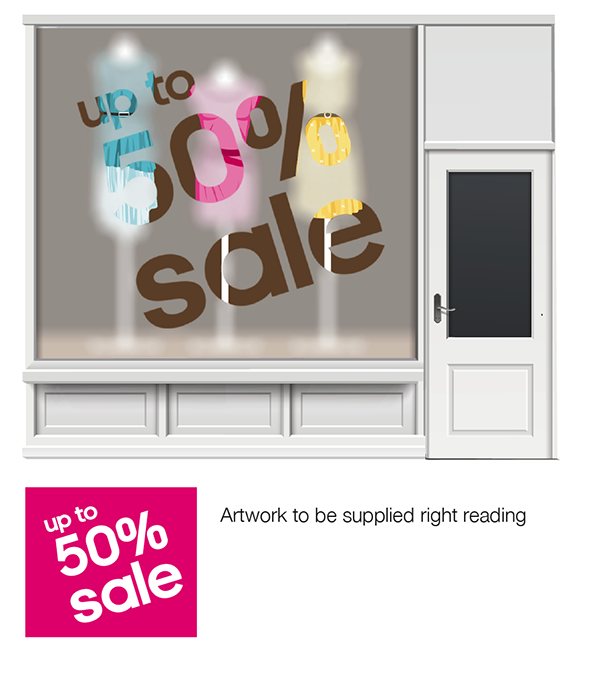 Etch on reverse: Etching on the reverse means the front of the graphic sticks to the glass and artwork is supplied in reverse
Check imposition set up
To avoid any issues or confusion over orientation we put the responsibility on the supplying studio to have reversed the file before sending to production.
FileCheck
This product is not supported by FileCheck so 021 is not available. Artwork will need to be self validated against these guidelines.