Overprinting is the process of printing one colour on top of another. When a vector object is not set to Overprint it is set to Knockout.
Only use 'overprint' in the following circumstances:
Do not alter the default overprint settings unless a desired effect is required. For example, overprinted yellow text on a red background will make the yellow text seem to disappear.
Black text is generally set to overprint by default. This is correct.
Overprint in InDesign
InDesign > Window > Output > Attributes > Overpint Fill / Stroke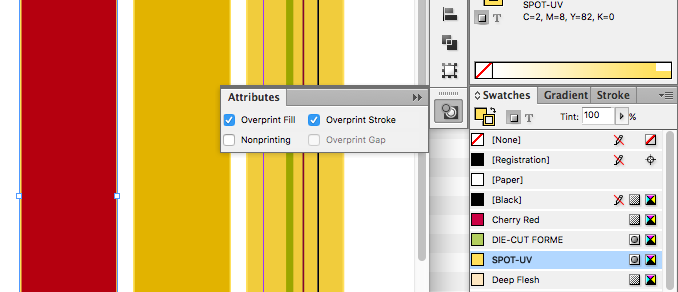 Overprint in Adobe Acrobat
Tools > Print Production > Output Preview - Simulate Overprinting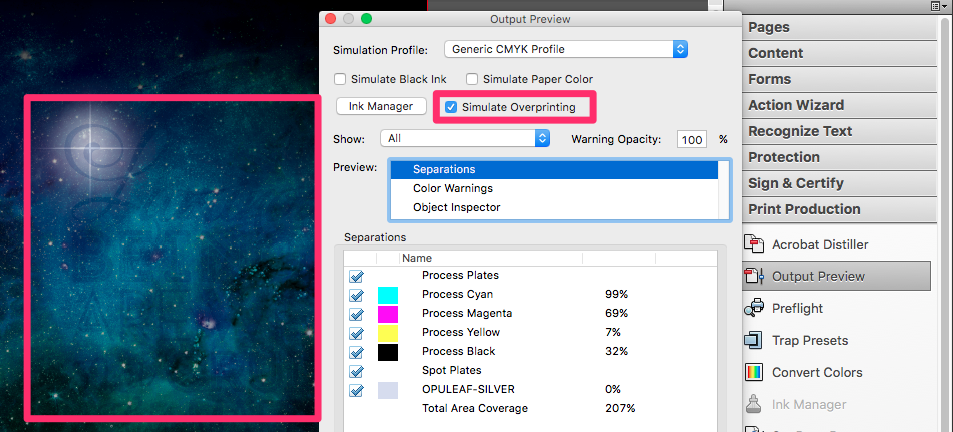 Objects not set to Overprint are set to knockout as standard, this allows us to print yellow text over a blue background without the final colour appearing green (the yellow text punches out a white shape beneath it).
The OPULEAF-SILVER spot colour is set to overprint in the example above because we want the special finishing colour to appear on the Print Ready PDF without knocking out a white area beneath it.
Tools > Print Production > Output Preview > Preview: Colour Warnings - Show Overprinting
You can view elements which are set to overprint using Adobe Acrobat's Output Preview Tool. The elements which are set to overprint are highlighted using the colour chosen.
Specific Overprint Effects
It is likely that novelty uses for overprint might be overridden by our preflight profiles, which cater for typical uses for overprint.
Quark XPress version 4
This old version of Quark XPress does not handle overprint as you would expect; patterned lines are only partially overprinted, no matter what settings are specified for colours, printing, or objects. Our solution is for you to enable the Overprint DIE CUT FORME Action in your preflight. This ensures that all DIE CUT FORME objects are set to overprint, no matter what is specified in the design. Note that the DIE CUT FORME colour must be correctly specified for this Action to work.