What are Proposals?
Proposals are used to form an agreement with the client about what you will and won't do for them and decide the price. Proposals are designed for complex projects and are ideal for website builds.
The Proposal acts as both a quote and a contract:
It's a quote as it states the price for the project.
It's a contract when agreed by the client, as it states what work is necessary for each payment.
Please note: Proposals are only available to Nettl web studios.
If you would like to become a Nettl studio, please contact chris.lowe@nettl.com.
Creating a Proposal
To begin the process of creating a new Proposal, head to the top menu bar and click 
'Create' > 'Proposal'
OR
Head to the old-style menu > 'Workgroup' > 'Proposal' > 'Create Proposal'.

The next screen will then present 4 options to you:
'Start from a model'
This option allows you to choose from a selection of Model Proposals. These have already been pre-written for certain projects. They include SEO Packages, Care Plans and Nettl Websites.

'New blank proposal'
This option allows you to create a Proposal from scratch.

'My model library'
This option loads the Proposal library where you can choose any previous Model Proposals you may have saved. 

'Create new model'
This option allows you to create your own Model Proposal that you can reuse again in the future. 
Choose one of the options above and then choose the customer this Proposal will belong to.
Editing your Proposal
Once you've created your Proposal, you will be taken to the Proposal Summary screen. This gives you an overview of the Proposal.
From the OVERVIEW screen, you will be able to add additional information such as;
title,
an overview of what the customer would like,
how likely the project is to go ahead,
the likely value of the project,
the current status of the project,
and who the proposal is assigned to in your studio.
Proposals are made up of text Sections, Milestones and Financials.
At the end of the process, when all the required sections are filled in, you can click the Print PDF link to build a beautiful PDF Proposal that can be downloaded and emailed to your client, or you can click the 'Share with customer' link to share the proposal directly with the customer via their online account.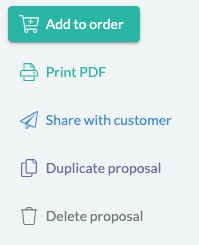 Use Proposal Status' to indicate how far the proposal has progressed.
Once a proposal has been Accepted or Rejected, Flyerlink then removes the option to amend the PDF so you can refer back to what was originally agreed without worrying if changes had been made.
---
Proposal Sections
Sections provide information that explains the way we work, summarise what you've discussed with your client, and state what work you are willing to do for them. Some of these sections have been pre-written by a member of the central team. We've done this to avoid 'sunken time' by having to type the bulk of the Proposal by hand. 
If you've chosen a Model Proposal it will look similar to the below screenshot. The Sections tab shows you a breakdown of all the sections in your Proposal currently.
You can change the order of the Sections using drag-and-drop. Just click on the section you wish to move and drag it either up or down the page.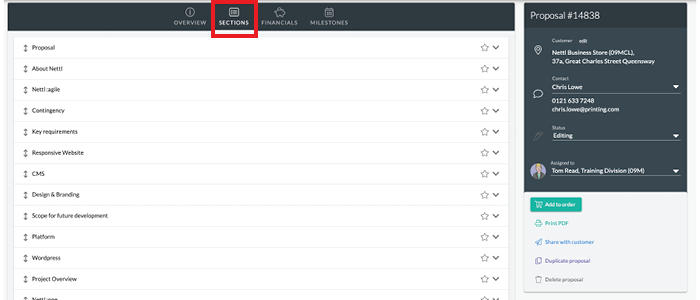 To add a new section, scroll to the bottom of your sections above and click on:

Then choose if you want to select a Model Section, a Blank Section, a Product with Pricing or a Plan.
If you select 'Add a model section' then you will be taken to the Model Section picker screen.
In the Model Section picker screen, you'll see a list of different section types on the left-hand side menu. These relate to typical sections you would add to a range of different proposals. 
On the right-hand side, you'll see boxes that show which Model Section you can add to your Proposal.
You will see two different types of boxes here:
 
Boxes with a

Purple strip at the top

have been written and saved

by your studio

. These are your own saved Model Sections.
 
Boxes with no strip at the top have been written centrally

by the Nettl team

.
 
Click the [+] Add link to add them to your current Proposal.
These Sections are reusable starting points you can later amend or just always use for your Proposals.
Proposal Composer - Editing the content
You can edit the content in any section you've added to your Proposal, whether that be a Model Section or a Section you started from scratch. 
Click onto the section you wish to edit, and then click the purple 'Edit content' button. 
You will then see ALL Sections in the new Proposal Composer with the ability to edit the text in each from one screen.
From the Proposal Composer screen, you will see all sections you've added to the proposal along with the text in each. 
In the Proposal Composer for each Section you can;
Edit the text for each section (changes are saved as you type)
Change the sections 'Status' ('
),
Add a background image (210x297mm)
Add a page break
Show / Hide a section from a customer (to keep as internal notes)
Show / Hide heading
Indent a heading
Delete a section
Move the order of a section in the Proposal

(drag up or down)
You can also add new sections from the Proposal Composer screen if you forgot in the first instance. 
Click on the teal green button on the far left to insert a new

Section.
You can also add in a Plan as a Section in the proposal (COMING SOON)
Model Sections
Sections that you can re-use again for future Proposals
---

If you want to reuse the Section once you've edited it, click the green teal ( + ) button link on the left.  This will then show an option to  'Save as new model'. Then for future Proposals,  in the Section Picker, you will see this saved section.
You can also make a new Model Section from scratch by heading to Workgroup > Proposals > Model Section > Create.
To read more about Model Sections, read through this full help article here:
 ➔    [ Full Model Sections help article ]
Sharing your Proposal with a customer
Once you're happy with the Proposal and it's been approved by a manager or a colleague (if needed),  it's now ready for the final steps.
At the very bottom of the Proposal Composer, you will see some options for what you can do next:  


this will take you back to the

Proposal Summary

screen.

this will immediately turn your

Proposal

into a PDF that you can download or print off and send to your customer.

this will let you quickly share the

Proposal

with your customer via email. A pre-written email template will show (you can edit the text for this) with a link for the customer to view the

Proposal

online via their account. They can also or online too. 
 
If you feel you can use this entire

Proposal

again, you can quickly duplicate it.

This will mark the editing stage of the

Proposal

 as complete. This allows other members of your team that it is now ready to be shown to the customer in some form.
An alternative way to Share a Proposal from the Summary screen
Another way to share a proposal with a customer is to do this back at the Proposal Summary screen.
When you've finished making all your changes, simply press the Share with customer button
Your customer will get an email with a link that sends them directly to the proposal for approval
We also attach the proposal in a PDF
When they see the proposal, they can approve it immediately, send it to a colleague, or ask for changes.
We will notify you by email if it's accepted or if changes are required
Milestones
Milestones are project goals or landmarks where work has been done and payment could be required. A Milestone could be a charge when a key feature is developed or a website goes live, or it could be a monthly charge regardless of the website status. The Milestone could also include work that is charged £0.00 but is still an important goal in the project that you want a record of when it was completed.
How to add Milestones to a Proposal
To add a Milestone stage to your Proposal, click on 'Milestones' > ' [+] Add Stage'
A window will appear where you can set up your Milestone

choose the type of Milestone this is. "When will this Milestone occur?"

give this particular stage a name so you and your client can easily understand what it is.

if the particular Milestone you're setting up is a deposit, tick the box and your customer will be prompted to pay it when they accept the Proposal online.

enter in the percent of the total amount that this Milestone will be. 

choose a date that you would like this payment to be taken from the customer
Once you have added all the Milestone stages, it should look similar to the above. 
You'll see the Payment 4 in the example above has the 'Type' selected as 'Remaining balance' as it's the final Milestone.
NOTE: The stages you add must add up to the total amount. There cannot be an amount left not linked to a Milestone stage.
Financials
Financials either work alongside or as an alternative to Milestones.
If you're using Financials as an alternative to Milestones, you simply use Financials to state the overall project price.
However, we recommend you use Financials alongside Milestones.
This way you can use Financials to include optional extra functionality that isn't included in the Proposal price. Or you can state the price of the project in both Financials and Milestones, and use Milestones to tell the client how you will phase the project and what functionality will be built first.
To add Financials, click on the 'Financials' tab
If you started from a blank Proposal, or you haven't added a Financial Section to your Proposal already then your screen should look like the below:
Click [ + ] Add financial section and add the Section.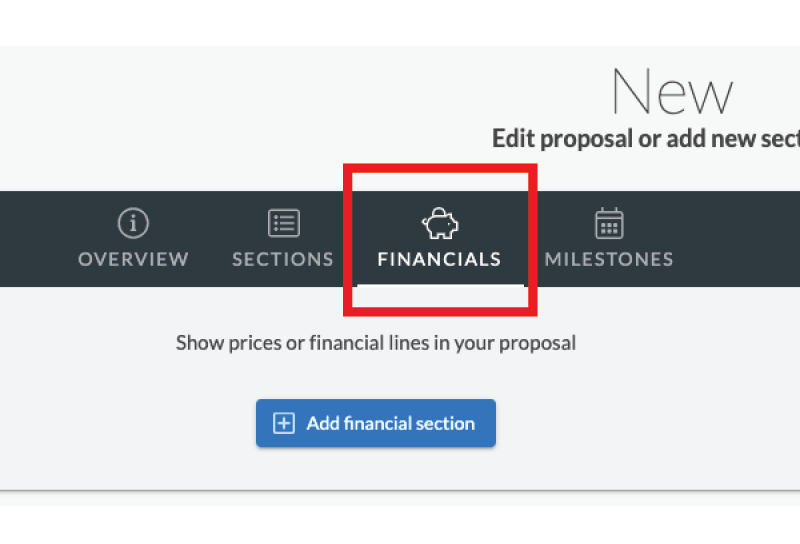 Once you've added a Financial Section, select the type of product you are selling as part of the Proposal. For example, If the Proposal is mainly for a web build, select the most relevant 'website' product. 
Then, once you have selected the appropriate product, click [ + ] Add line
A window will appear where you can begin to add in the first revenue line. 
Here you can select the: 

The product or service you are proposing

Short title/description of the service or product. This will appear on the customer's invoice. 
🔲 
Tick this box if you are also offering additional services/products that are optional. Your customer can choose whether they want to accept the option services/products when they approve the Proposal online. 

Enter in the costs and quantity for this service/product
Once you've entered in all of the above, click on 'Save line'
If you have already added products to your Proposal as a section (such as Business Cards or other standard products) then they should already appear in the Financial section.
See below:
Again, you can tick 'optional'  if any of the products/services you are offering are extras. 
Proposal PDF
Remember to print your Proposal PDF once you've finished editing, this can then be emailed to your client for their approval before you begin building their project.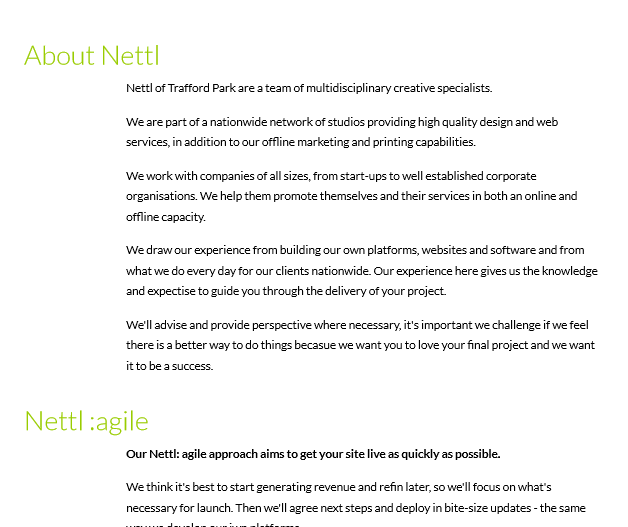 Requiring a deposit
If you want to require a deposit to start work.
When adding your proposal milestones tick one as a deposit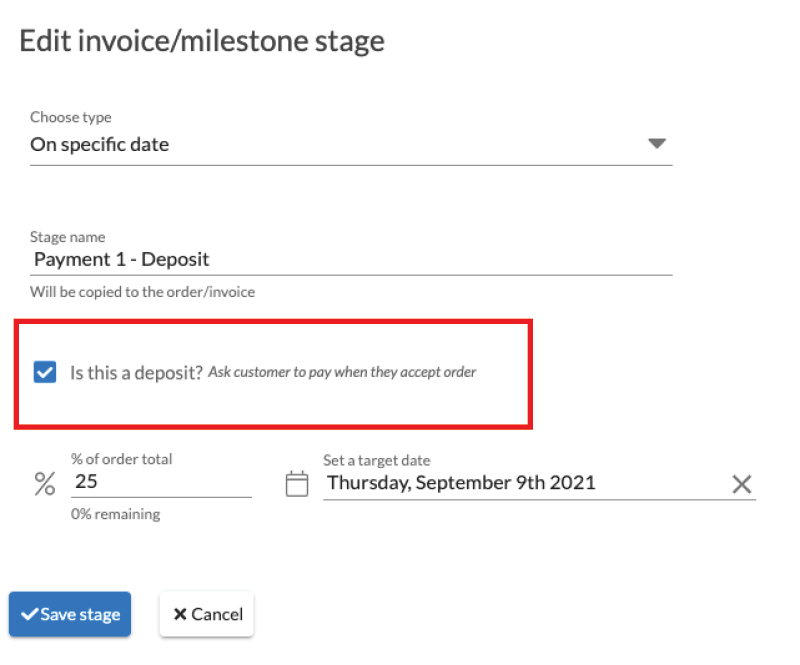 Then when the client approves online they'll be asked to pay a deposit in order to accept the proposal
Emailing your proposal
Instead of sharing you could email the proposal instead using the email proposal status
This will bring up an email template you can modify and attach the proposal to the email after you send it. Note if you don't send the email from this page it won't be sent to the client.
Proposal history
We store the PDF when a proposal is emailed in your Proposal history so there's always a hard copy of the text sent to clients for your reference
We also store the PDF when the proposal is approved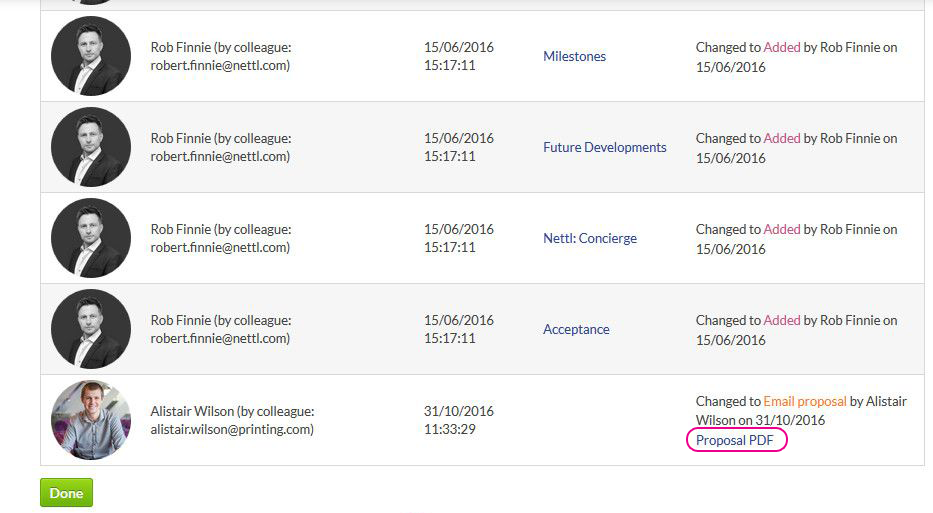 If changes are made to the proposal after and there's any question of what was agreed you can always go to the proposal history and find out for sure what they agreed to.
Watch the surgery (to be updated)
Model Sections are used to provide reusable content for Proposals.
What are Proposals?
Proposals are sent out to clients before complex projects like website builds are started. Clients will be told by the Proposal Sections ho
w you work,  what work you will do for them, and the cost for your work.
Proposals are split into Sections, and each Section will cover different information.
A typical Proposal will have Sections detailing information about the design studio, a summary of the features requested during the free consultation, an explanation of the hosting and platform choices made, and anything else useful for the client to know.
See w3pedia article 5907 for more.
Model Sections
What are Model Sections?
Model Sections are sections you are able to re-use again in future proposals. They are often sections that are general and not specific to that particular project. 
An example of a common Model Section would be the 'About Nettl' section. This section is an introduction to your studio and how you will undertake the project. This rarely will ever need to be changed/edited so is saved as a Model Section. 
Types of Model Section:
When making a Proposal, you'll see two types of Model Sections:
Studio-made Sections are model sections written by your workgroup. These will have a

purple stripe

across the top. 
 
Regular Model Sections are written by Nettl head office. These are just regular boxes and will NOT have a purple stripe across the top.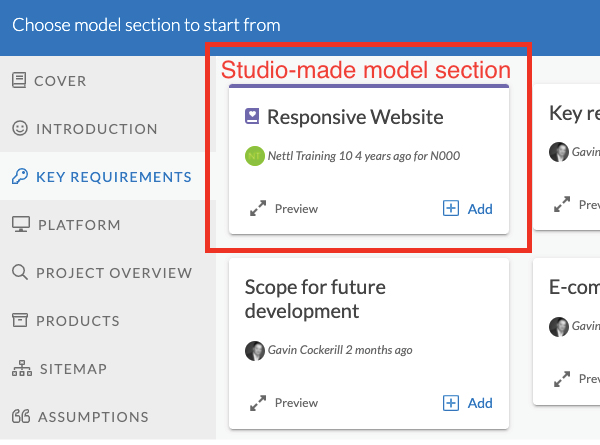 You can click on the [+] Add icon to these sections onto your Proposal to copy the information over.
How to edit an existing Model Section and then save it as your own
Have you found an existing Model Section that you want to edit, and save to re-use again in the future?
You can also make your own Model Section while writing a Proposal.
First, create your Proposal.
Create > Proposal
Then, add the Model Section you wish to edit and re-save as a new Model Section. In the image below, we are editing the 'About Nettl' section.
Click '[ Edit Content ]'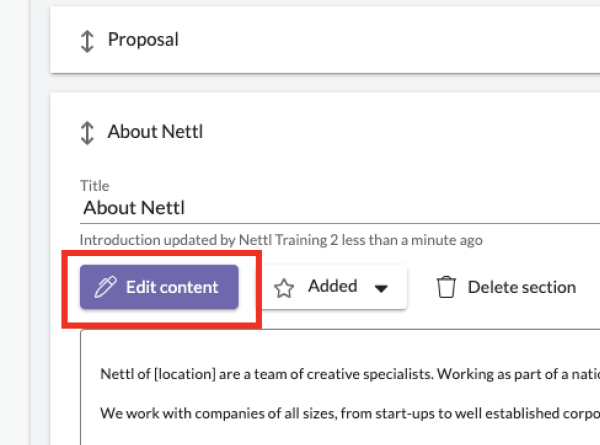 Edit the section with the content you require. Remember, as you type the system will save as you go along. No need to press Save. 
The title you give the section is how it will be displayed in the Model Section library. If it's a new section we recommend you rename it. 
Once you've edited the section, click on the teal ( + ) icon in the top left of that section.
This will open a drop-down menu. 
Click on 'Save as a new model'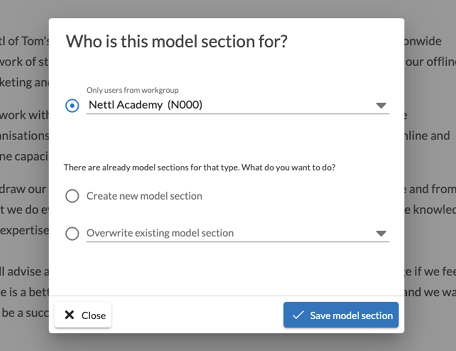 You can then choose who can access the Model Section. This is normally your studio/workgroup. 
If you didn't rename the title of the section, the system will let you know that a Model Section with the same name already exists. 
You can either: 
Create a new Model section
OR
Overwrite an existing Model section - you would then choose from the dropdown list which one you wish to overwrite.
How to make your own Model Section from scratch (Custom Section)
To make one of your own Model Sections and have your own wording when you're sending out a Proposal, head to the old-style menu, Workgroup > Proposals > Model Sections > Create.
OR
Type 'Model section' into the main Flyerlink Search bar.
Create a new Section and choose what Type it belongs to.
Click on [ Create Model section ].
You will then be taken to the section editor screen where you can begin to put your content together. 
Remember this page saves as you type. 
Creating Brambl sites
To build a new Brambl website, simply head to Workgroup > Websites > Create in Flyerlink.
Choose Brambl, and pick your theme.
Your site will be created and hosted on w3pcloud in a few minutes.
Your theme is important. Each theme comes with a limited amount of Panels. The more Panels your theme has, the more design choices you have in your site. Brave & Velocity are the most flexible themes.
Editing Brambl sites
Once your site is built you've two options, Edit your site or Publish changes.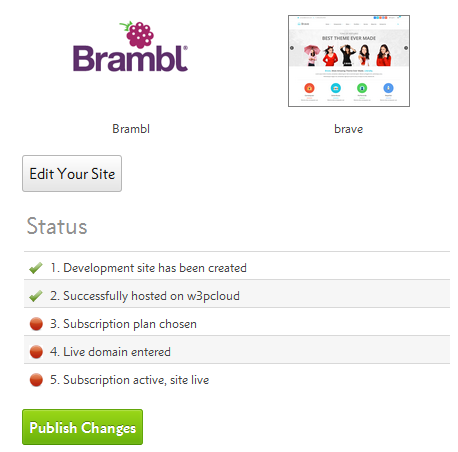 There are two versions of your Brambl site, the last saved version and published version. The Brambl Editor will always show the last saved version, but you will need to press Publish Changes before this version replaces your live site. This allows you to return to the editor and adjust a working version before publishing it live.
Press Edit your site to open the Brambl editor.
Brambl toolbar
The toolbar across the top helps you make changes to the site, page or layout. You can use the Toolbar to:
Change the page you're editing
Delete this page
Add new pages
Undo changes
Redo your last undo
Save changes
Adjust your SEO & Menus via the tab
Adjust your sitewide default styles for headers, backgrounds, text and footers using the tab
Add new Panels & Widgets using the tab
your site without the editor.
Pages
The first three toolbar options let you change the page your editing, create new pages and delete pages.
You can then switch page with the Page dropdown menu.

The page name can be changed via Settings > SEO from within Brambl.

Each page can have it's own combination of Panels & Blocks with unique personalised content.
Panels & Blocks
Brambl splits your pages into Panels and Blocks.
The Panels are rows that stretch across a desktop and can contain multiple Blocks.

Each Block holds content that can be edited either using our text editor or specially designed controls which you'll see for Buttons, Links, Images, Slideshows, and Widgets.
Different themes have different Panels, however all themes have Global Panels, such as Text Frames of different column widths
Content editing
To edit any of your site's page content, simply double click the content you want to adjust.
Text
Double click text, and you'll see a text editor appear on the right hand side.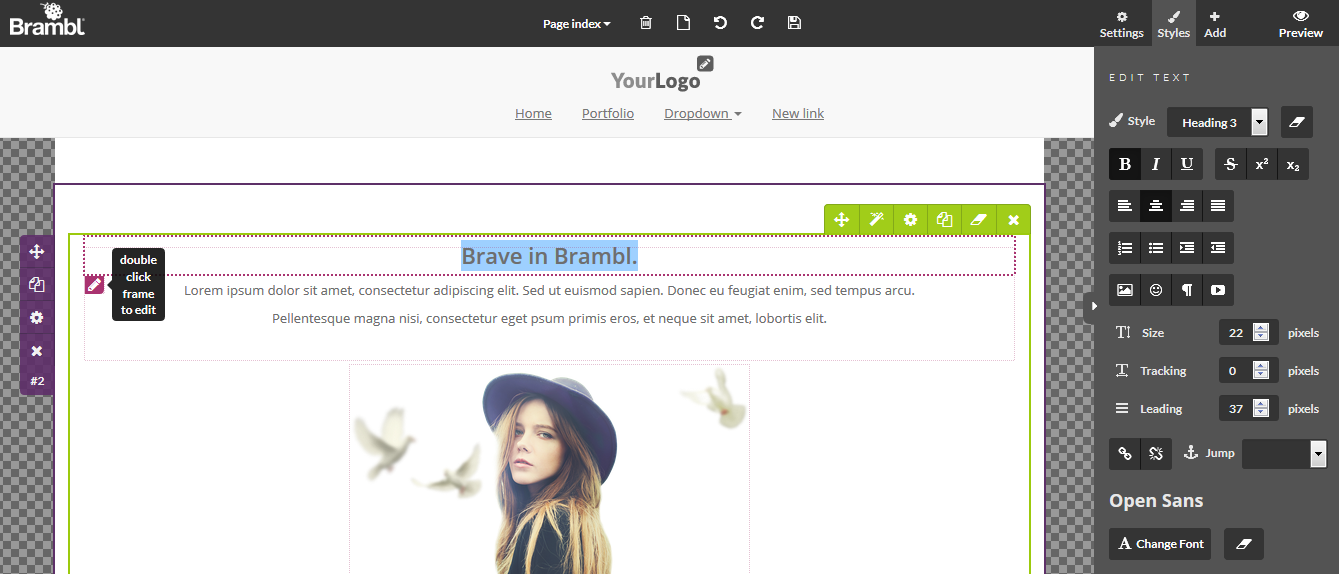 The right hand side bar provides the standard text editing tools you'll be used to like applying Bold, Italics, Underlining, changing the Alignment. It is also possible to adjust the leading, line space and font width.
You can add images, icons, buttons and anchor points.
Finally you can adjust the font, font colour and background colour.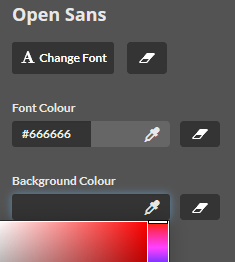 Any changes made to specific paragraphs will override the Site wide styles you set up via the Settings tab.
Images
Double click an image and you'll see the image editor on the right hand side.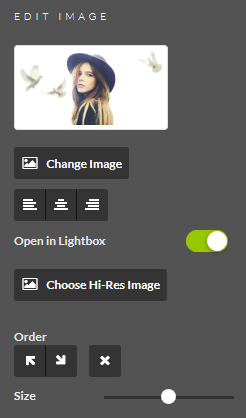 Here you can change the:
Image
Alignment
Size using a slider
Order relative to other content, using the arrows
Press the X icon to delete the image
You can also either make the image open a lightbox when clicked...
or link to another page.
If you choose the lightbox, you can upload an alternative Hi-Res Image that is opened when the lightbox loads. This means you can have an image saved for web when viewing the site normally, and a higher quality image for when a user clicks to see it.
Icons
To add an icon, click on the text and then use the icon option. You can then edit any icon by double clicking it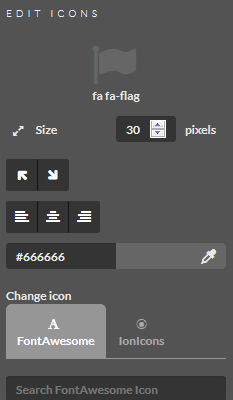 You can change the icon Size, Alignment and Colour
Brambl allows you to choose any icon from the FontAwesome & Ionicons libraries, simply choose which you want and find the best one for your clients requirements.
Buttons
Double click any button to open the button right side bar.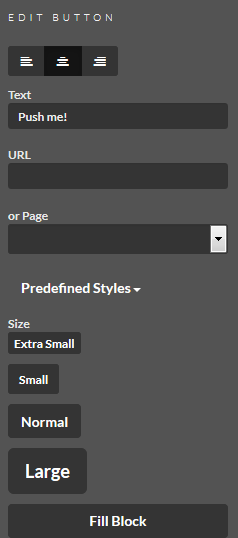 Here you can change the text displayed, the url location or Brambl Page
You can choose a set of predefined colours and sizes...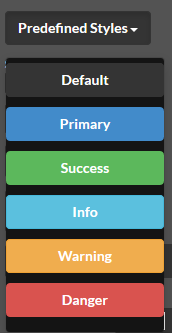 Or scroll down and choose your own size, text and background colour.
Remember to save: Once you're happy with your changes  you need to Save and Publish Changes before the edited version replaces your live site.