AutoMail
Every other month we send a large consignment of printing.com and Nettl branded mailers to an external fulfilment company. They print your addressee and return address directly onto the mailer and post it for just 55p each. We call this centralised mailing service 'AutoMail'.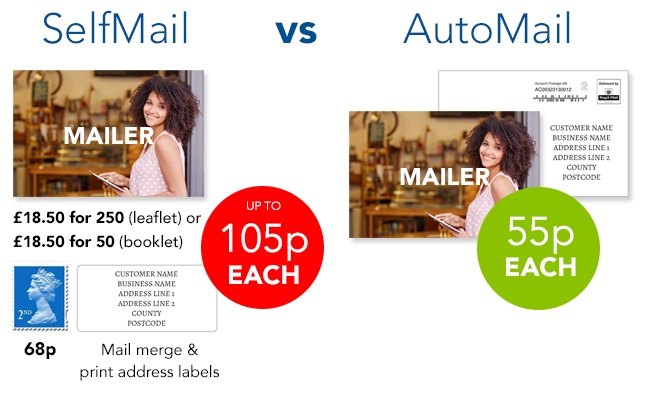 How to set up AutoMail
Head to Workgroup > Customers > Mail > AutoMail:
Next, choose how many people you want to receive the mailers and we'll prioritise the highest spending clients to get the best response.
Here we split your customers our into Active, Dormant, Lost & Enquiries.
Active customers - those who've ordered within the last 6 months
Dormant customers - those who last ordered between 6 months to 2 years ago
Lost customers - those who last ordered over 2 years ago
Enquiries - contacts you've added to Flyerlink who haven't ordered yet.
Change the opt in to Yes for each group you want to send mailouts to.

You can choose how many you want to contact within each of these groups in groups of 50: such as 200 active customers, no dormant customers, 50 lost customers and 50 enquiries.
Now you're opted in.
We'll tell you how many of your customers and enquiries in total will be mailed.
'Total' is all your customers, and includes those who've ticked "Do not mail" or have a total order value different to what you've chosen
'Filtered to' is the number we can actually mail based on the order quantity. This excludes all customers who've ticked "Do not mail"
'Will charge for' is the group of 50 you've chosen.
A note about the data cache.
As your mailing preferences are updated we have to run a cache to update it. We run the cache refresh automatically overnight. If you would like to see revised mailing numbers then you can use the Refresh Cache link to manually update:

Note: The mailouts cost 55p each and are done in batches of 50. We'll tell you how many customers you have in each group. If the 'Filtered to' is under the batch of 50 you've chosen, you'll be charged for 50 customers.
We also add a campaign section showing when the next campaign will be and what the campaign is for.
For printing.com partners using AutoMail, we will automatically send printing.com branded mailers.
For Nettl partners without a printing.com licence using AutoMail, we will automatically send Nettl branded mailers.
AutoMail is only available to workgroups on the GBNI pricing zone.
What happens next
When you've opted in, you can change the settings any time you like and the next campaign will use your new numbers.
When a campaign happens, we will create a charge job for the amount of customers mailed. You can see a history of when the mailouts happen via Workgroup > Customers > AutoMail > AutoMail Log
Against each of the jobs you find here we'll attach a CSV in the Files for Production menu. Download this CSV to find out who we mailed for each campaign.